20-venue Irish tour from 6 October – 27 November.
Eden is the powerful story of an ordinary relationship on an extraordinary weekend. Billy and Breda are approaching their 10th wedding anniversary. Breda is determined that this will be the weekend that saves their marriage. But Billy is more concerned with Imelda, the beautiful young woman he has his eye on. From the writer of hit RTÉ drama Pure Mule, Eden is a story of stale love and fresh lust in the Irish midlands.
Starring Maeve Fitzgerald and Patrick Ryan.
Review from Decadent's 2019 production of Eden:
With a bench and a spotlight, they took us on a journey, bringing a world to life in every detail. The ability of two actors to create such raw and vulnerable characters is unforgettable. – Galway International Arts Festival
Andrew Flynn's absorbing production unflinchingly exposes the power of story to convince and corrupt, and the discrepancy between appearance and reality. – Irish Theatre Magazine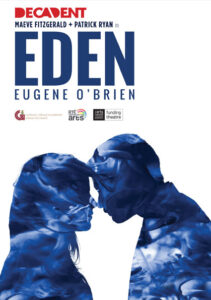 Click on cover to download EDEN Programme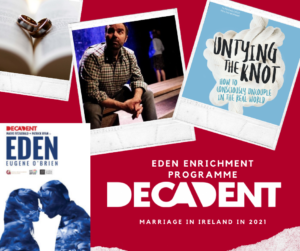 Eden Enrichment Programme
PODCAST
Marriage in Ireland 2021
The Irish divorce rate is at an all time high. Why? After a performance of EDEN, 3 panelists discuss relationships and the Irish way of marriage. Kate Gunn, author of 'Untying the Knot, How to Consciously Uncouple in the Real World', Peter McNamara, journalist and editor of 'Holy Show' Arts & Culture magazine and Maeve Fitzgerald, actor from the show, use the play as a jumping off point.   LISTEN HERE