with  MAEVE FITZGERALD & PATRICK RYAN
Eden is the powerful story of an ordinary relationship on an extraordinary weekend. Billy and Breda are approaching their 10th wedding anniversary. Breda is determined that this will be the weekend that saves their marriage. But Billy is more concerned with Imelda, the beautiful young woman he has his eye on.
From the writer of hit RTÉ drama Pure Mule, Eden is a story of stale love and fresh lust in the Irish midlands. Eden was the winner of Best New Play at both the Irish Times Theatre Awards and the Stewart Parker Awards in 2001.
"With a bench and a spotlight, they took us on a journey, bringing a world to life in every detail. The ability of two actors to create such raw and vulnerable characters is unforgettable "
Galway International Arts Festival
"Andrew Flynn's absorbing production unflinchingly exposes the power of story to convince and corrupt, and the discrepancy between appearance and reality "   Irish Theatre Magazine
Director: Andrew Flynn
Set Design: Ger Sweeney
Lighting design: Ciaran Bagnall
Composer/Sound Design: Carl Kennedy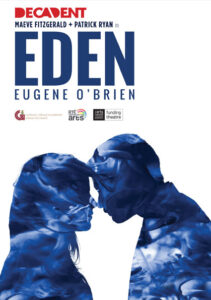 Click on cover to download EDEN programme
EDEN Enrichment Programme, curated by Dani Gill.
PODCAST   Marriage in Ireland 2021
After a performance of EDEN, 3 panelists discuss relationships and the Irish way of marriage. Kate Gunn, author of 'Untying the Knot, How to Consciously Uncouple in the Real World', Peter McNamara, journalist and editor of 'Holy Show' Arts & Culture magazine and Maeve Fitzgerald, actor from the show, use the play as a jumping off point.
More info here
VIDEO   Place: Reflections on EDEN
Writers Lisa McInerney and Donal Ryan, reflect on the nature of small Irish towns, gossip and truth, identity and community, in Eden by Eugene O'Brien. Video discussion curated and introduced by Dani Gill.
More info here
TOURING DATES
OCTOBER
Everyman Theatre, Cork  Wed 6 – Fri 8 October
Siamsa Tire, Tralee, Kerry Sat 9 October
Nenagh Arts Centre, Tipperary  Fri 15 & Sat 16 October
Wexford Arts Centre  Thu 21 – Sat 23 October
Roscommon Arts Centre  Wed 27 October
Draiocht, Blanchardstown, Dublin  Thu 28 & Fri 29 October
Lime Tree Theatre, Limerick  Sat 30 October

NOVEMBER
Town Hall Theatre, Galway Tue 2 & Wed 3 November
Dunamaise Arts Centre, Portlaoise, Laois  Thu 4 November
Source Theatre, Thurles, Tipperary  Sat 6 November
Theatre Royal, Waterford  Tue 9 November
Glor Arts Centre, Ennis, Clare  Thu 11 November
Ballina Arts Centre, Mayo  Fri 12 November
Town Hall Theatre, Westport, Mayo  Sat 13 November
Backstage Theatre, Longford  Wed 17 November
Droichead Arts Centre, Drogheda, Louth  Thu 18 November
Town Hall Theatre, Cavan  Sat 20 November
Hawk's Well Theatre, Sligo  Thu 25 November
Riverbank Arts Centre, Newbridge, Kildare  Sat 27 November