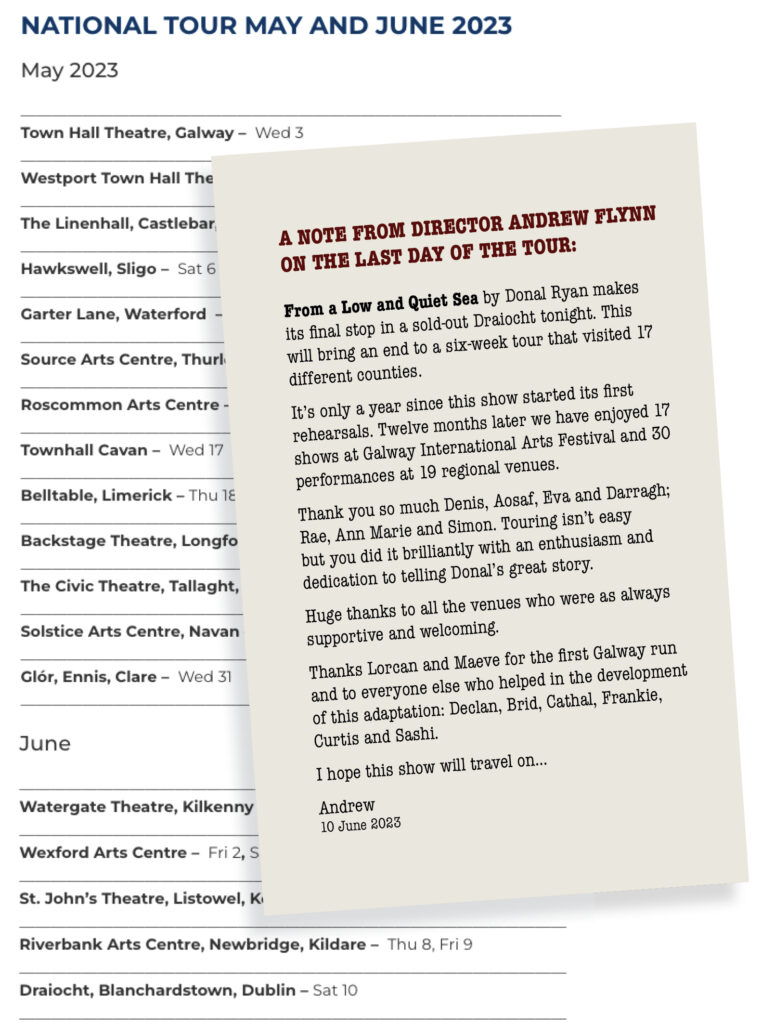 After its critically acclaimed world premiere in the 2022 Galway International Arts Festival, Decadent Theatre Company and Galway Arts Centre presented an 18-venue Irish tour of From a Low and Quiet Sea in May/June 2023.  It was adapted for the stage from Donal Ryan's Booker Prize nominated novel and directed by Andrew Flynn.
The mother, the refugee, the penitent, the dreamer.  From a Low and Quiet Sea is a carefully crafted portrait of the intersecting lives of four characters, four lost souls, each searching for a version of home. From war–torn Syria to small–town Ireland, they are scarred by all they have loved and lost. They are drawn towards a powerful reckoning, one that will bring them together in the most unexpected of ways.
"It is not very often that four demanding and intense roles come together with absolute perfection, but they do in this production. Not a moment, a nuance, a gesture is less than perfect throughout, as each of the characters in turn drag the heart from your body…This play will haunt you." – Irish Independent, July 2022
"The interwoven voices providing audiences with intimate engagements with the characters, whose fates are aligned in surprising and unpredictable ways…A moment of deep theatrical resonance for the audience, where the staging matches the emotional heft of Ryan's language." – Irish Times, July 2022
"For this co-production between Decadent Theatre Company and Galway Arts Centre, the script was developed by [Donal] Ryan, along with director Andrew Flynn and the impressive cast of four, and retains the lyricism of the novel…the performances are subtle and often gripping, as the successive monologues build to create character studies." – The Guardian, July 2022
Supported by the Arts Council of Ireland.