Local women cool their heels on a slow night in a small town. A bewildered man steps off a country bus in search of his identity. Lonesome men occupy an early house in search of companionship.
These are just three of the scenarios played out in Kevin Barry's wonderfully imagined and riotously entertaining play. Throw in a lust-deranged poultry farmer, a gigantic taxi driver stricken with chilling visions, and you have a stunning, provocative and richly comic collection from a writer of unique gifts. There Are Little Kingdoms chronicles life in the towns and cities of a changing land, where a strange new music sounds, where there are many uncertainties and absurdities, but where still there's laughter in the dark – which echoes as compassion.
This is a place where everything is changing, and where everything remains the same.
Galway International Arts Festival 2021
1 – 11 September, 8pm
Previews Wed 1 and Thurs 2 September
Matinees Thursday 2 and 9,
Saturday 4 and 11 September, 3pm
No show Sunday 5 September
Cast:
Zara Devlin
Diarmuid De Faoite
Maeve Fitzgerald
Peter Gowen
Aisling Kearns
Patrick Ryan
Jarlath Tivnan
Written by Kevin Barry
Director Andrew Flynn
Scenic Artist Ger Sweeney
Lighting Design Ciaran Bagnall
Sound Design Carl Kennedy
Costume Design Sara Ben-Abdallah
Set Construction Brian Moroney
Decadent Theatre thank the Pavilion Theatre artist  bursary for helping the company in the development of the script for 'There Are Little Kingdoms'

Listen back to Andrew Flynn & Kevin Barry on RTE Arena (26 August) talking about characters exploding off the page and how our actors are having a ball getting There Are Little Kingdoms on its feet for Galway International Arts Festival.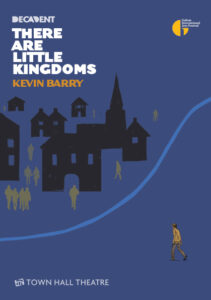 Download
There Are Little Kingdoms
Programme